VINS Bioproducts Ltd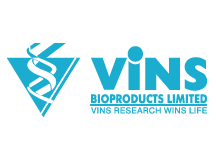 Membership status :
Prospective Full Member
Website :
http://www.vinsbio.in/
Contact us :
806 Essjay House, Road No.3, Banjara Hills
Telangana Hyderabad
India
Phone :
+91 40 2335 4550
Based in Hyderabad, India, VINS Bioproducts Limited entered the arena of biologicals and bio-pharmaceuticals at the turn of the century with a view to produce lifesaving drugs for rural areas. Early on, the company focused on finding remedies for diseases that are endemic in India, the tropics and other less developed nations.
True to its initial objective, the company commenced work to develop AntiSnake Venom Serum (ASVS), which was launched in early 2000. VINS' ASVS, is a lifesaving product much needed in rural areas, where people engaged in agriculture activities are regularly exposed to snake bites. The product was well accepted and enjoys today a market share of almost 40% in the Indian ASVS market. Spurred on by the initial success, the company took up the development of ASVS (polyvalent for different African snake species including for deadly Black Mamba species), Anti Rabies Serum (ARS), Tetanus Antitoxin, and Diphtheria Antitoxin among others.
World Health Organization (W.H.O.) estimates that 75% of deaths caused by rabies world-wide, occur in India, Bangladesh and Pakistan alone. W.H.O. recommends Anti Rabies Serum (ARS) along with Anti Rabies Vaccine (ARV) to be injected in all Category III and immuno- compromised Category II rabies cases.
All products are manufactured according to GMP processes and approved by Indian National Regulatory Authority. They are distributed in Asia, Africa and Middle East.
Quality Policy:
* We at VINS Bioproducts Limited, will produce and market potent and safe biopharmaceuticals according to the current relevant regulatory requirements;
* We dedicate ourselves to follow the current good manufacturing practices, good laboratory practices and good engineering practices to make continual improvement of the quality of the Antisera products and enhance customer satisfaction;
* We recommit ourselves to achieve total customer satisfaction by delivering world class pharmaceuticals at affordable prices;
* We also recommit ourselves to ensure efficient use of resources and pursue the implementation of practices that minimize emissions to ensure appropriate waste management and conserve natural resources.
For more information, please consult VINS Bioproducts website http://www.vinsbio.in