The Government Pharmaceutical Organization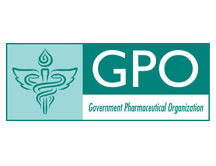 Membership status :
Prospective Full Member
Website :
http://www.spbniivs.ru/
Contact us :
75/1 Rama 6 Road, Ratchthewi,
Bangkok
Thailand
Phone :
+662 203 8500
The Government Pharmaceutical Organization (GPO) of Thailand is a state enterprise under Ministry of Public Health. It was founded in the year 1966 by merging of a pharmaceutical manufacturing plant(founded in 1939) and Pharmaceutical Department(founded in 1901) according to the GPO Act of 1966. The annual revenue of year 2009 is approx. 260 mUSD. The total pharmaceutical product items are more than 300. The total staff is about 2,100.

Vision: To be a leader in pharmaceutical products and medical supplies beneficial and essential to the Thai society and fairness.
Mission: To manufacture.sell and supply quality pharmaceutical products and medical supplies with the aim to achieve world-class standard to develop business to ensure competitiveness and self-sustainability.
To maintain price level of pharmaceutical products and medical supplies necessary for Thai society to ensure people's accessibility.
To research and develop new pharmaceutical products and medical supplies to serve the need of the country.
To carry out business related pharmaceutical products and medical supplies manufacturing.
The main responsibility of GPO is to produce medicines and pharmaceutical products to support the country's public health. GPO was assigned to serve the national public health policy.
Biological Product Department of GPO is, one of the Production Cluster, responsible for production of vaccines and antisera. At present, staff under this department is about 150. Our current products are JE(MB) vaccine, antiserum of tetanus and antisnake venoms. The coming vaccines of dT, TT, DTP and DTP-HB are under reproduced. The under developed influenza vaccine was supported by WHO Grant and the Government including domestic and international networks. The H1N1 2009 PLAIV is now in phase II CT and will finish soon. The new strain under prepared for pandemic preparedness. The IIV for seasonal program will be scaled up in the industrial plant supported by Thai Government Budget.
Since the pandemic of H5N1 Avian Influenza, Thai Government take serious awareness for the possibility of Influenza pandemic situation.
The construction of new Influenza vaccine plant supported by the government is under construction and will be completed by next year. The plant is located in Saraburi Province (120 Km away from Bangkok).
For knowing more about us please visit us at www.gpo.or.th