Bharat Biotech International Limited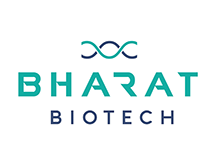 Membership status :
Full Member
Website :
https://www.bharatbiotech.com
Contact us :
Genome Valley, Shameerpet Mandal,
Hyderabad
India
Bharat Biotech International Limited is a multidimensional biotechnology company specializing in product-oriented research and development leading to the manufacture of vaccines and biotherapeutics. Bharat Biotech was established in the year 1996 by Dr. Krishna M. Ella and Mrs. Suchitra K. Ella. For the first time in the world Hepatitis B Vaccine (rDNA) was manufactured without the use of Cesium chloride in the process and was launched in 1998 in the brand name of Revac-B. Manufacturing and Control Procedures for vaccines and biotherapeutics conform to CGMP and the stringent guidelines laid down by USFDA, UKMCA and WHO. It is the first biopharma company in India to be audited and approved by Korean Food & Drugs Administration (KFDA) for the manufacture of an injectable vaccine.
Bharat Biotech is the largest primary manufacturer of Vi Capsular Polysaccharide Typhoid Vaccine and the first to manufacture recombinant Streptokinase and also the probiotic yeast product in India. Bharat Biotech has recently launched India's first recombinant Epidermal Growth Factor (REGEN-D®) to combat diabetic foot ulcers, burns.
Bharat Biotech's vision is to generate innovative technologies with strong backbone of intellectual capital for the manufacture of unique vaccines and biotherapeutics with global IPR associated with the products. Bharat Biotech has been granted a number for patents for new technologies for these products, staying true to its mission to make the novel technologies address the healthcare needs of the developing world. Therefore, Bharat Biotech has taken up the development and production of new or improved vaccines against severe Rotavirus Diarrhea (2 candidates), Malaria (4 candidates), Japanese Encephalitis, Rabies, Pandemic Influenza and drug resistant Staphylococcus aureus. Bharat Biotech has received funding from the Bill and Melinda Gates Foundation for its vaccine development projects against Rotavirus and Malaria.
Bharat Biotech has made significant progress in new product development and has partnered with companies from USA and Europe to co-develop, manufacture and market these products. Due to its new product development experience manufacturing expertise and respect for global IPR, Bharat Biotech has built productive partnerships with companies such as Wyeth, Acambis, Novavax and others. Bharat Biotech has ongoing collaborations with many institutions within and outside India, such as the Department of Biotechnology, All India Institute of Medical Sciences, National Institutes of Health USA, Centers for Disease Control USA, Stanford University School of Medicine, Bill and Melinda Gates Foundation, Program for Appropriate Technology in Health, International Centre for Genetic Engineering and Biotechnology etc. Bharat Biotech is one of the first companies in India to perform contract manufacturing of vaccines for MNC's such as Wyeth, due to the IPR associated with its Hib vaccine.
Bharat Biotech has also made significant strides in the manufacture and commercialization of vaccines for immunization programs, worldwide. Bharat Biotech is in the process of achieving acceptability for the supply of OPV, Hep B, and combination vaccines containing Hib for global requirements.
The strong commitment to make significant scientific contributions to the development and cost-effective production of biotherapeutics and vaccines for vaccine-preventable diseases world-wide drives Bharat Biotech to attain IPR credibility for the delivery of world-class healthcare products.